Understanding why some sports teams and organisations not only win, but win consistently.
GAIN LINE Analytics is an operations and management consultancy with a unique perspective on success in professional sport and business. We believe great teams are more than just the sum of their parts; we believe great teams are the product of the linkages and connections within the organisation. As such, we help sporting clubs and organisations build these linkages and connections with a view to sustainable, long-term success both in the sporting and corporate arena. GAIN LINE Analytics places a strong focus on data analysis and quantitative research using the unique field of Cohesion Analytics. This means we offer our clients solutions that are grounded in evidence and real-world experience.
Our research has shown that the Performance of a team is directly linked to the Cohesion of that team.
GAIN LINE Analytics Measures, Analyses, Predicts and Creates Cohesion
NEXT Events: Melbourne & Sydney, October 2019. Click here for more information and to book your ticket.
Learn about the latest in global sports analytics and business team performance research to help you develop a high performing environment.
The Leadership Performance Lab will challenge your thinking, debunk myths, current fads and give leaders tangible tips they can implement on their first day back in the office.
GAIN LINE Analytics influence stretches across multiple Sporting, Corporate, Media and Educational organisations.
Who Drives the Development of Cohesion?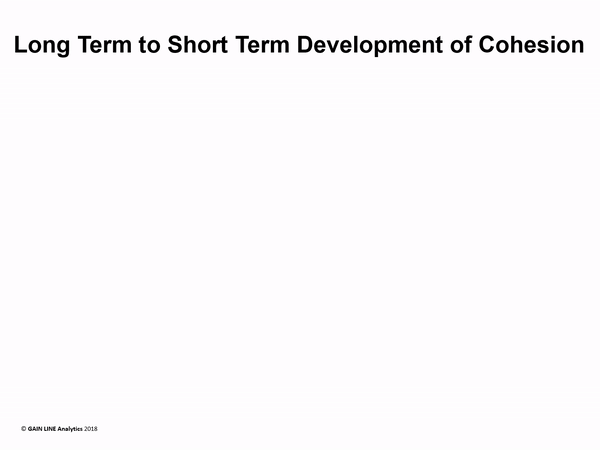 For an organisation or team to achieve on-going success, it is not enough for its members to be merely talented and well coached or managed; the group must also have cohesion.
GAIN LINE Analytics has developed unique metrics, Team Work Index (TWI®) and the Key Cohesion Markers, for measuring the quantity and intensity of linkages within a team. The higher the metrics, the more Cohesive the team, the more likely the organisation is to enjoy sustained success in their specific field.
Cohesion is driven from the top of the organisation down. Without alignment and strong governance Cohesion can not be effectively built and maintained within an organisation. Without alignment even the best coach or manager will not be able to get a team to perfom to capacity.
Stay connected to GAIN LINE Analytics and get the latest insightful analysis, statistics and more via
Twitter, Facebook and Linkedin.